Mount Nittany Mercantile open for business at 523 South Allen St.
Bailiwick News Retrotopian Edition* - June 1, 2025. Fiction.
*Bailiwick News Retrotopian Edition (h/t John Michael Greer) is a fictional newspaper, covering imaginary political, business and human-interest stories in the fictional community of Mount Nittany, Pennsylvania.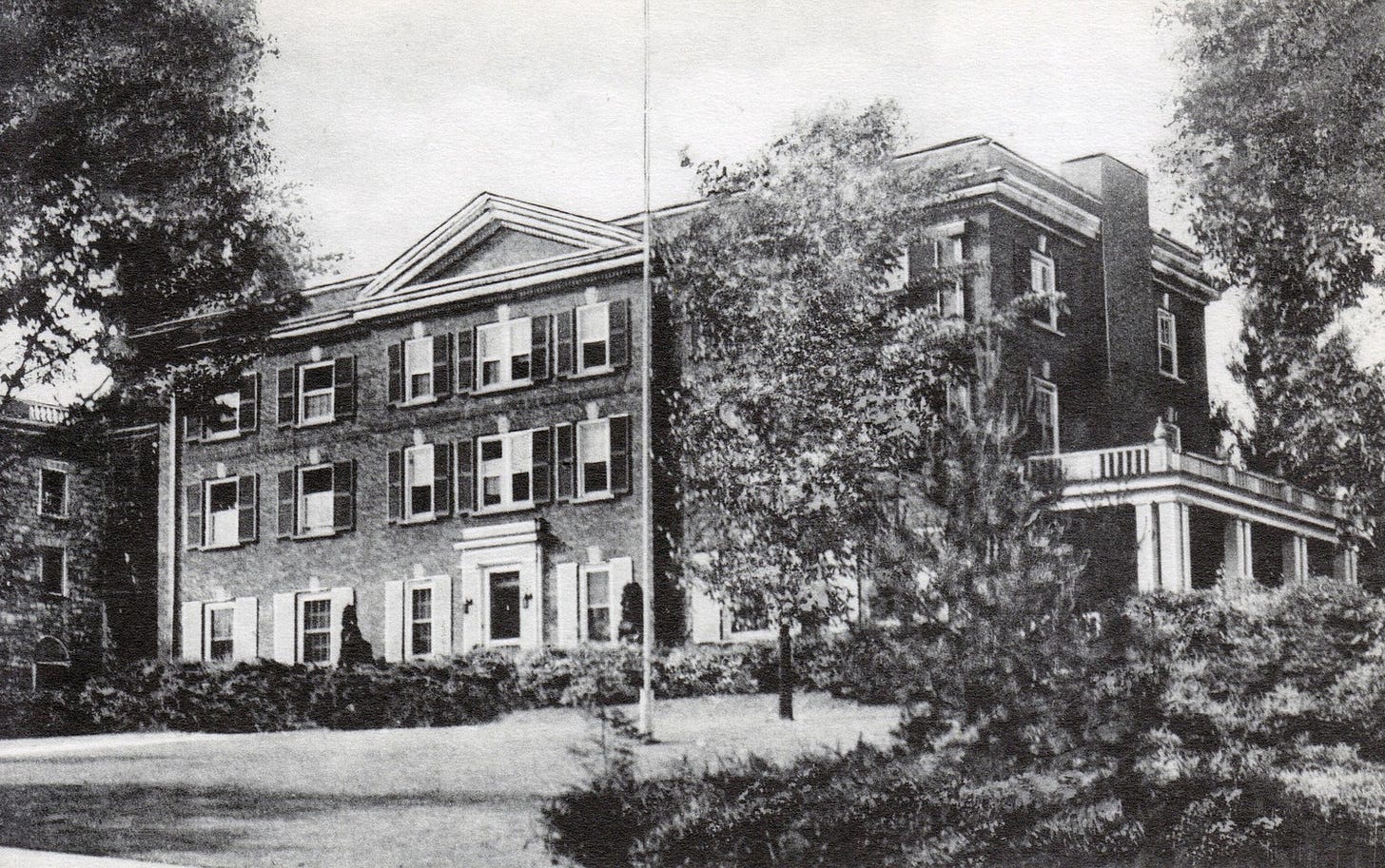 Photo above: Theta Chi fraternity house, circa 1930s.
Reporting by Ada Miller, Stringer to Bailiwick News
Mount Nittany Mercantile held its grand opening celebration on Friday, May 30, at the restored Theta Chi fraternity house, located at 523 South Allen St. near downtown Mount Nittany.
The Mercantile is an old-fashioned general store, providing a marketplace for Centre County vendors who produce fresh, frozen and shelf-stable foods, along with locally-produced essentials such as soaps, household kitchen items, hardware and tools. Hours of operation are Tuesday through Saturday, noon to 8 p.m.
Throughout the day Friday, curious customers browsed through the general store's two main sales rooms picking up fresh produce, cheeses, meats and other items, and stopped in to the ice cream parlor for free samples from the in-house creamery.
"We're so proud of what our community has created here," said Store Manager Annaliese Scott.
Stepping inside
The main retail area is in the former Reception Room and Club Room, with a small seating area open on the first-floor porch during good weather. The porch faces south, toward Mount Nittany.
The ice-cream parlor is in the former Library, including a few small tables, and a children's playroom has been set up in the former Card Room, stocked with toys donated by Mount Nittany's pseudonymous "Toy Lady."
The former Housemother's Room is now the Mercantile's business office.
Downstairs on the ground floor are stock rooms, including walk-in coolers and freezers and a commercial kitchen used by local food processors, cooking instructors and caterers. The former Dining Room may be rented for small and mid-sized events like birthday and anniversary parties and civic club meetings.
The 20 former bedrooms upstairs are now mostly offices, studios and workshops rented by food producers (for business recordkeeping), along with artists and craftspeople producing items for sale on the shop floor below and through their own direct sales networks.
Origin story
Alongside her husband Peter and a group of 22 other investors, Scott has been working since Spring 2021 to bring the vision to reality.
The Scotts are former Penn State professors - he in Political Science and she in Rural Sociology. Both were laid off in Summer 2021, as the university grappled with a drop in enrollment, tuition income and government subsidies following the COVID-19 outbreak of 2020.
Determined to make lemonade out of those lemons, they combined significant portions of their severance packages with other laid-off faculty and staff in a one-time deal to purchase the then-vacant Theta Chi fraternity house for $300,000, after the house entered foreclosure proceedings in the autumn of 2021.
"It's such a beautiful building, with such a rich history," said Julie Cameron, an investor who also coordinates profit-sharing for the mercantile.
Cameron and her partner Alice Hughes are former professors of African-American Studies at Penn State.
According to Cameron, the group looked at several abandoned fraternity houses before choosing the Theta Chi house for its location and character. She said everyone involved began work with a lot of uncertainty and only two clear goals: to create a community-sustaining and profitable local general store, and to protect a local architectural treasure.
"We weren't sure what it would look like, but we knew we had an opportunity to take the first few steps in that direction, so we took those steps," Cameron said. "And we knew that starting with a site we owned free and clear, with no mortgage debt, would give us time to put together the rest of the project."
Investment structure
Aminah Nouri, a former Penn State economics professor, designed the investment strategy to raise startup capital.
"Our highest priority was to facilitate local investment, but avoid interest-bearing, debt-based instruments," Nouri explained. "We all watched the implosion of the global economy pick up speed in the decades before the 2020 crash, and we understood that a major cause of the systemic fragility was the massive amount of debt that had built up. Government debt, corporate debt, small business debt and private, household debt."
Nouri's academic specialty is the history of "sukok" investing, a Sharia-compliant structure used in Muslim countries for centuries, to comply with the religious precept barring usury, or interest-collection on investment debts.
The usury prohibition was historically shared by other Abrahamic faith traditions such as Judaism and Christianity. It was largely abandoned in Western European, Catholic-dominated cultures during the 16th century, but is enjoying a bit of a renaissance currently.
So when Nouri joined the group exploring possibilities for creating a local food business in the Theta Chi house, she presented information about how to set up a sukok investment pool.
Under a sukok investment instrument, investors purchase "certificates of equal value representing undivided shares in ownership of tangible assets," according to a May 2003 rule disseminated by the Accounting and Auditing Organization for Islamic Financial Institutions.
It's basically a profit-sharing agreement between a group of people starting a business, and investors interested in seeing the business succeed. Losses are also borne by the entrepreneurs and the investors, in proportion to the capital invested by each party to the profit-sharing agreement.
Spurred by the economic crash of 2020, many non-Muslim cultures began to establish similar vehicles to facilitate investment in tangible assets and to clearly distinguish them from speculative and derivative instruments that contributed so much to the global collapse of financial markets.
Mount Nittany Mercantile's 24 initial investors each purchased certificates at $5,000 face value, for a total $120,000 in startup capital.
If the Mercantile breaks even and then turns a profit, each investor will earn an agreed-upon percentage of those profits, paid quarterly.
"Owning the building free and clear from the start has been key to making this work so far," said Cameron. "We don't have to make rent payments to a landlord or mortgage principal and interest payments to a bank out of our sales revenue. That makes it much easier to manage overhead from operating income and leave some leftover for profit-sharing."
Architectural restoration
After taking possession of the building in late 2021, the organizers reached out to local contractors to discuss restoration. They eventually signed a contract with Greg Parker of Parker's Restoration, and a team of six recent Mount Nittany Area High School graduates who had joined Parker's then-new apprenticeship program.
"It was fantastically lucky timing," Parker said. "It gave the kids and me a perfect opportunity to work through a project hands-on from design to build to finishing. We were all able to learn and practice a bunch of different historical building techniques and project-management techniques."
Parker and his young team worked slowly but steadily throughout 2022, guided by the 1931 "History of the Omega Chapter of Theta Chi Fraternity," edited by George W. Chapman. For almost 90 years, the building was home to generations of Theta Chi fraternity brothers attending Penn State, except for a few years during World War II when it was used as a temporary Army barracks.
Chapman's book described the house as having a "Colonial feeling," built of red brick three stories above ground in the front and four stories in the rear. When setting the foundations in 1929, the builders used stones salvaged from the recently-demolished first Old Main on the Penn State campus.
The Theta Chi house's "cream-colored windows" had green shutters at that time, and the window sills and keystones were Indiana limestone, so the team repainted the shutters and window trim in those colors.
"Building and climbing the scaffolding to paint those shutters was a lot of fun," said Adam Pensky, one of the young apprentices in Parker's construction training program.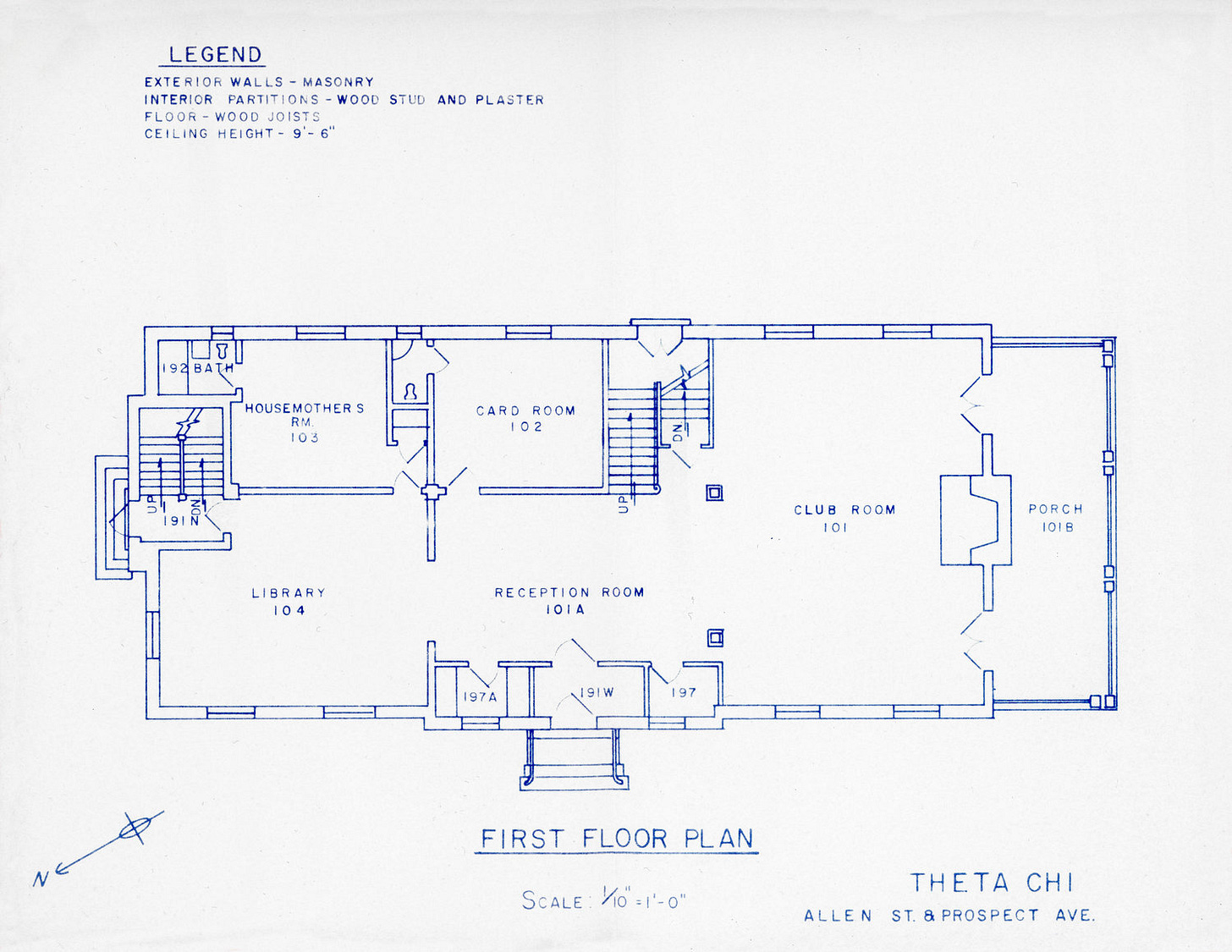 Inside, the restoration team worked to recreate the original layout, using construction blueprints. They refinished the white oak flooring on the first floor, re-plastered the walls, and reconstructed the "natural finish knotty pine" mantle on the original club room fireplace. Other projects included restoring the terrazzo floor in the ground floor dining room, and exposing the wood beams in the dining room ceiling.
The fraternity's commercial kitchen was still mostly intact, but the team coordinated with another group of recent high school graduates (led by electrician Suzanne Trotter and plumber Anthony Seria) to repair and replace broken fixtures and safety-test the equipment.
Volunteers also worked to clear out old furniture from the second and third-floor bedrooms and clean the rooms for office occupants.
First few entrepreneurial steps
Of the startup capital, Nouri said, about $40,000 went toward restoration costs and furnishings: shelving, display cases and serving counters, coolers and freezers.
In January 2023, the organization hired its first full-time employee -- caretaker and facilities manager George Somerville -- and helped him set up his rent-free apartment on the third floor.
Somerville, in turn, began leasing the other 19 former bedrooms as offices, studios and workshops, at $300 per month, and renting out the commercial kitchen and dining room downstairs at a sliding scale of $15-30 per hour.
The rentals began generating some operating revenue for the business, and Somerville's salary was set at 25% of monthly rental income (roughly $1,500), with the other 75% used to fund other startup costs.
Store manager Scott was added to the payroll in mid-summer 2023, and began connecting with vendors to build relationships, identify supplies and supply chain gaps. Two years of her work, with some volunteer support from other investors, helped set up more than 40 initial purchasing agreements with local food, beverage, household goods, and hardware suppliers, culminating in yesterday's grand opening celebration.
Pricing and vendor contracts
More than 40 Centre County farm-based vendors and commercial food processors from Rebersburg and Centre Hall to Port Matilda and Huntingdon, sell products through the Mercantile.
Shoppers can find fresh, canned and frozen vegetables and fruits, dried beans and grains (including locally-milled flours), fresh and frozen chicken, pork, beef, lamb, goat and bison meat, and fresh eggs, along with dairy products (cow and goat) such as milk, cheese, yogurt, and ice cream.
Three local bakers supply the store with fresh bread, rolls, cookies, pies and cakes.
Three days a week, local chefs take over the downstairs kitchen to prepare ready-to-eat meals for dine-in (in the adjacent Dining Room) or takeout, using items nearing the end of their sell-by period.
Two days a week, local canners take over the kitchen to preserve fruits and vegetables before spoilage.
To encourage shoppers to snap up the freshest foods at their peak and minimize spoilage waste, Mercantile staff update a large chalkboard out in front of the store daily, to notify customers about what's newly available, in what increments, at what price.
One of the innovations Mount Nittany Mercantile has pioneered is small-volume supplier contracts for urban and suburban backyard producers.
Scott and other key organizers knew that many local residents' incomes took a hit from the 2020 crash, and that even those who kept their jobs at Penn State and other major local employers were forced to accept steep cuts in hours and wages. Many turned to backyard gardening to control some of their household food supplies and costs.
And, many realized that for some types of crops, it's easy to overplant.
Rebecca and Ted Houtz were one such couple.
"We went a little nuts with the summer squash and butternut squash back in the 2020 growing season," Ted recalled. "And all of our neighbors went a little nuts with very similar things the same year."
Starting in Spring 2021, the Houtzes coordinated their planting plans with other families in their Greentree neighborhood to grow a variety of produce and share it at harvest time, without overwhelming anyone with "too much frickin' zucchini bread," as Rebecca put it.
Their efforts got a governmental boost in December 2021, when the Mount Nittany City Council adopted new Urban Agriculture and Suburban Agriculture zoning and overhauled the Board of Health to streamline safety and sanitation inspections for backyard producers and home processors to grow and preserve food for off-lot sales.
So the Houtzes and their neighborhood were among the first backyard-scale producers to sign supplier agreements with Mount Nittany Mercantile after Scott began recruiting vendors in late 2023.
For commercial and backyard producers and processors, the pricing system works the same.
Producers plan their crops and herd and flock sizes in January and February, decide the sales volume and packaging for their products, and set the wholesale price they want. For example, the Houtzes might want $3 per quart of fresh blackberries in July peak season, while a beef farmer might plan to earn $5.50 per pound of frozen ground beef year- round.
Producers provide store management with an estimate of how many quarts or pounds they'll deliver and when.
Retail prices are then set 10% above wholesale, and all the information is entered into a boilerplate supplier contract and signed by the parties.
Vendors keep in touch with store management about crop damaging weather events and other impediments to delivery, and adaptation/substitution efforts.
Frozen and shelf-stable products are delivered as scheduled in the contract, and fresh produce is delivered several mornings each week during the growing season.
Future plans
As store operations get up and running and the managers and investors together climb the learning curve and calibrate food production, supply chains and demand anticipation, they hope to add new services, like telephone orders and bicycle delivery to customers within a one-mile radius of the store.
Hours, accepted forms of payment, and contact information
Mount Nittany Mercantile
Open Tues. to Sat. 12 p.m. to 8 p.m.
523 South Allen St.
Mount Nittany PA
Parking in alley behind store.
U.S. and Centre County currency and local bank checks only
(No electronic payment processing)
Contacts:
Store Manager/Vendor Coordinator: Annaliese Scott, 555-6547

Investor Coordinator: Julie Cameron, 555-6598

Facilities Manager: George T. Somerville, 555-1201
---
*Bailiwick News Retrotopian Edition (h/t John Michael Greer) is a fictional newspaper, covering imaginary political, business and human-interest stories in the fictional community of Mount Nittany, Pennsylvania.